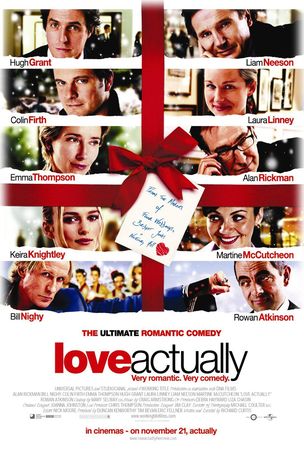 De Richard Curtis
Avec Alan Rickman, Emma Thompson, Liam Neeson, Keira Knightley (& une flopée d'autres)
Musique de Craig Armstrong
(2003)
La comédie à voir pendant les fêtes de fin d'année parce que, comme le chante si bien mal Bill Nighy Christmas is all around. Avec Love Actually, Richard Curtis redonne un coup de fouet au film choral et nous sert sur un plateau d'argent une brochette d'acteurs, plus incroyables les uns que les autres. J'aime ce film d'amour donc il va être très dur de faire une critique rationnelle pour le coup.

J'aime tout, mais surtout :
- ces histoires touchantes qui s'imbriquent merveilleusement bien les unes dans les autres ; le montage est vraiment génial ;
- toutes les scènes politiquement incorrectes de Bill Nighy ;
- l'humour british, un peu grinçant, un peu mordant ;
- les personnages coincés (David-the-prime-minister) - les déjantés (Rowan Atkinson & Colin-god-of-sex) - les timides (Sarah & Karl/Jack & Judie) - les trahis (Karen & Jamie) & tous les autres ;
- les répliques - certaines sont devenues cultes tellement elles me font rire (OMG she's in! - Don't buy drugs. Become a pop star, and they give you them for free! - Well we need Kate, and we need Leo and we need them now!)
- la musique de Craig Armstrong, tellement belle - toujours aussi chantante & bouleversante.